Cold, damp and airy winter afternoon at Gayfield but a reasonmable turnout and a noisy bunch of away fans from the west. The Irn Bru coach was in town.
Injuries and supensions featured so McLoughlin, Rattray Moyes and Booth were the backline in front of Hill, a midfield of Lunan, Nimmo, Gibson and MacLean with Jackson and Doris up front
Arbroath started slowly and, after 9 minutes a fast break down the visitors right by Chisholm was smashed in by David Winters to give us an another uphil home struggle. We came into the game well with Booth, especially down the left finding space and pace to give us some threat though the final ball was sometimes astray. We also created few opening down the right wing. Almost halfchances for Doris, Gibson, and others went begging
Halftime and, with the mild breeze at our backs, we were still in the game. We started the second half more positively, taking the initiative. Nimmo was hut in a challenge on the keeper and Redman came on, with positive results. Jackson started to see more of the ball up front.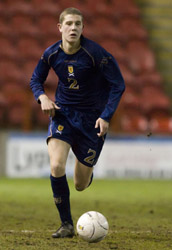 On 55 minutes a nice patient buildup saw Redman thread the ball through to Jacksn on the left hadn side of the box and he slotted a nice ball for Doris to nip in with deft flick to beat the keeper --1.
Dumbarton came back into the game thereafter, took control of midfield and forced a series of corners Jackson was bundled off the ballon the goalline without any benefit, raising the fans ire against the ref.
On 74 minutes a cross from the right was fed back (from Jackson) for Redman to volley a lovely goal over the keeper from about 18 yards. Ross came on for Lunan. Dumbarton reacted well and put us under some pressure, winning several corners.
After one corner, the ball bounced around our area and was converted but the asst ref had flagged foro offisde - a real let-off. Maybe our luck is turning? Sons came close with a freekick from 23 yards which narrowly flew past Hill's left hand.
The game was setled by a great goal from man of the match Callum Booth. yet again he carried the ball down the left wing, curt inside then nleashed a great shot into the far corner. Cue exodus of away fans
Home fans were delighted at another win and even the concept of seeing us score three at home - repeating the result of our first win of the season against the same opposition
This was a fairly even game - look at the stats below . Weir's reshaped team isn't yet fluent nor totally solid. But there does seem to be some character there to dig in when it counts. We have some good qualiy players in the side who can make a difference when it counts. We are trying to play football which sometimes comes off so there is a sense that we can create now.
Definitely a work in progress but so far so good. These two wins have put us almost back in touch with the pack ahead - we need to keep getting results.