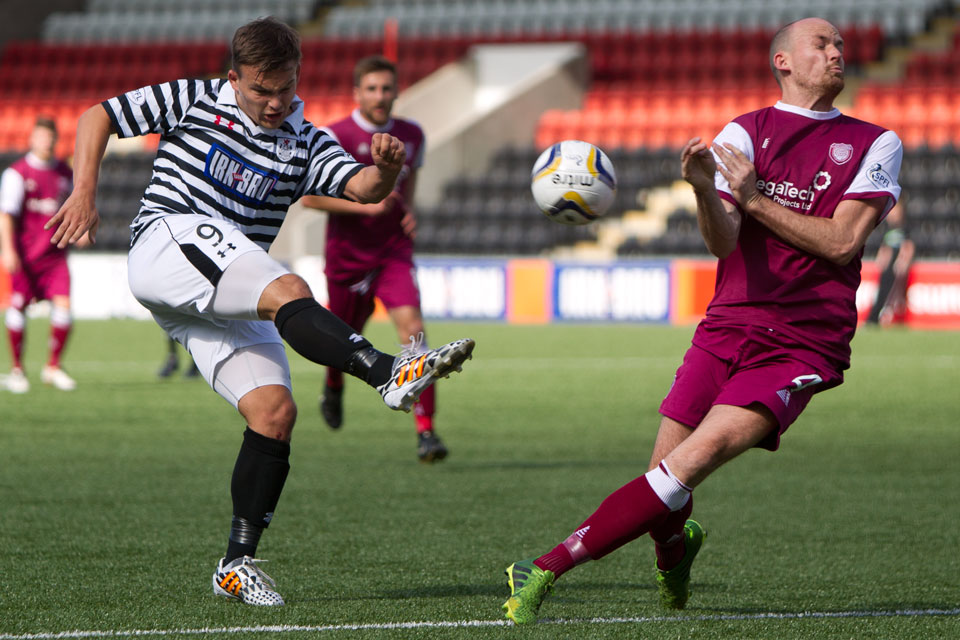 Match report from the Quens Park webpages
Queen's Park 0 Arbroath 2
IT'S been a long time coming, but Queen's Park supporters can now open their eyes and look at the Scottish League Two table. The Spiders no longer are propping up the rest.
The workmanlike win at Annan Athletic last week promoted us to glorious anonymity in the middle of the pack.
Even this early, Homer wouldn't be going too far out on a limb to suggest Queen's will NOT finish bottom of the heap this season, whatever happens today with the visit of league leaders Arbroath.
A new-look team, with just Tony Quinn and Gavin Mitchell from last season's squad making a start in the league, is far more street smart and physical than the youngsters we were forced to rely on last term. We will be no soft touches.
The belief from last week's win and clean sheet at Annan should be palpable. The team showed they were developing a better understanding and cohesion after their narrow loss to Clyde, even if they should have been out of sight at Galabank long before a nervous last few minutes.
Coach Gus McPherson again has almost a full squad available for Arbroath's visit, with David McWilliams the only absentee with a knee injury that has so far delayed his debut.
But Gus made one change from that Annan starting X1, with Scott Gibson replacing Kevin Fotheringham.
Queen's lined up with a back three of Quinn, McGregor and Gibson, with Berry next sitting in front of a four and McPherson and Fraser up front.
Allan Moore's Arbroath, relegated last season, had a good win at Berwick and then a 1-0 home defeat of Albion Rovers to lead the pack.
Homer was looking forward to see ex-Spider Ricky Little restored to health, despite being in the colours of today's rivals, but he was out injured again. Ex-Spider David Crawford was in goal for the Smokies and Ross Fisher was on the bench.
It was a frantic start in welcome sunshine, with both sides taking time to settle. Poor passing has hampered Queen's so far this season and early play showed that still needed work.
Queen's could have been punished for sloppy defending at a corner, leaving two Arbroath players free, but McBride's attempted cross was blocked.
Mitchell's long crossfield ball over full back Whatley was perfect for Fraser but his attemmpted first time pass inside to McPherson was blocked by El-Zubaidi, and then the purple-clad Crawford dived to cut out a McPherson cross.
It was pretty disjointed stuff 20 minutes in, from both sides, with the game crying out for a bit of composure.
It took this long for either side to manage a shot at goal, McBride's strong left foot cross being headed wide by Buchan. Queen's had yet to bother Crawford.
Queen's managed some sustained pressure on the half-hour, with some interplay around the Arbroath box giving Gallacher a shot which was blocked, but so far defences were on top.
Queen's almost broke the deadlock in 36 minutes with a more typical Hoops-style move. Woods and Fraser combined on the edge of the box and the winger finished it off with a shot which was too straight and Crawford took it low down.
Queen's needed Quinn to get in a good sliding block on McBride after Buchan's pass had sidetracked Mitchell and put the Arbroath winger into the box with a shooting chance.
The action improved as we neared the break – not that it would have been difficult – and Queen's fans were on their feet in 43 minutes when the Spiders had the ball in the net.
Miller swung over a good outswinging cross from under the main stand, Fraser met it at the far post to tap in, and the standside linesman had his flag up for offside. One to be reviewed on QPTV.
Half-time: Queen's Park 0 Arbroath 0
Only six minutes in, Arbroath made a double substitution, with Travis and Buchan being replaced by Simon Murray and Craig Johnstone as the visitors also reverted to a back three.
Hesitation by Woods almost proved fatal for Queen's two minutes later as McManus picked up the ball and fired a shot wide, and then Gibson did well to head clear under pressure from sub Murray.
Hunter was booked for a trip on Berry in 57 minutes and Miller was stupidly booked for dissent. Arbroath had restarted on the front foot. They were already pretty solid at the back, with El-Zubaidi missing nothing, and now they were seeing much more of the ball in attack. Winger Linn was proving a handful for Queen's, much as he has done on previous outings against Queen's. Referee Munro had a long chat with Queen's coach McPherson, who was becoming as frustrated as the supporters behind him.
Woods won a free kick in 65, being held back on the edge of the box, but Miller's free kick was straight at Crawford.
Murray had the ball in the net a minute later from Johnstone's cross, but the same linesman who had denied Queen's was flagging for offside.
Queen's sent on McElroy for Fraser but Arbroath took the lead in 69 minutes with a bizarre goal. A corner from the left was cleared out, but when it was chipped back in the Queen's defence couldn't clear it cleanly and McBride knew nothing about the ball striking his foot and dribbling slowly over the line.
An unlucky shocker for the Queen's defence, but you got the impression it would take something unusual to break the deadlock.
Arbroath sent on Smith for McManus, then Queen's sent on Wharton for Gallacher and pushed Quinn up front. Deja vu for Quinny.
It was almost 2-0 after another Queen's slip. Gibson was way short with a passback to Muir and sub Smith, who had trials with Queen's pre-season, nipped in to get off a shot which Muir was quickly off his line to block.
Wharton was booked for a push on Smith in what may have been the bearded defender's first involvement.
Queen's made their final change when John Carter replaced McPherson and he was involved when Stewart was booked for holding him back on the edge of the box. Miller's free kick was a passback straight into Crawford's arms.
Queen's finished going forward but they found the visitors just too experienced, too organised.
And just to confirm that, Arbroath made it 2-0 right on 90 minutes. Linn was allowed to run 40 yards unchallenged, he found McBride wide left, and when the low cross came in Smith sidefooted a shot low behind Muir. Simples.
Still, another step in the learning curve for Queen's. Keep the faith.
Queen's Park – William Muir, Gavin Mitchell, Ross Gallacher, Vincent Berry, Tony Quinn, David McGregor, Scott Gibson, Darren Miller, Ross McPherson, Shaun Fraser, Paul Woods. Subs – John Carter, Kevin Fotheringham, James Baty, Bryan Wharton, Ciaran McElroy, Sean Burns, Blair Lochhead.
Arbroath — David Crawford, Michael Travis, Mark Whately, Kevin Nicoll, Aldin El-Zubaidi, Kieran Stewart, Bobby Linn, Paul McManus, Adam Hunter, Kevin Buchan, Scott McBride. Subs — Simon Murray, Jack Smith, Ross Fisher, Chris Scott, Craig Johnstone, Kieran McWatter, Scott Morrison (GK).