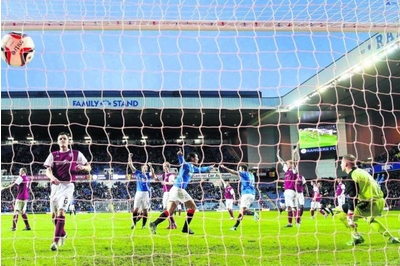 Taking the lead twice, this was a spirited and disciplined performance from the Lichties and it took a real dubious penalty award late to win it for Rangers. Even then we were denied a goal in an almighty goalmouth scramble,
From the Glasgow Herald: Rangers were pushed to the brink at Ibrox yesterday, but there was still enough depth to their resilience.
There were few moments that would leave a lasting impression, and the general sense was of a team that kept falling victim to its own self-doubt, yet the hosts maintained their unbeaten run. The home fans would have hoped for more accomplishment or style, but it required other qualities to secure the victory.
Twice, Arbroath took the lead, through David Banjo and Bobby Linn, and twice Rangers dug in, overcame their anxiousness and levelled, with goals from Jon Daly and David Templeton.
Eventually, some overzealous defending by Arbroath's Colin Hamilton resulted in a penalty kick, the full-back pulling Jon Daly as the striker tried to connect with Andy Little's cross. Lee McCulloch converted to put the home side in front for the first time. It was enough to deliver the victory, and a sense of relief washed over Ibrox.
Having fallen behind for a second time, after the interval, Rangers sent on Templeton to try to alter their fortunes. The winger has been mercurial, but he found some focus and drive on this occasion, equalising after some quick footwork made room for a shot that he lashed beyond Arbroath goalkeeper Scott Morrison.
Moments later, another Templeton shot bounced off the post and Bilel Mohsni turned the ball into the net, only to be judged offside. Nonetheless, Templeton's presence was enough to revive a sense of purpose in Rangers.
"I said to Temps after the game that he gave us a boost when he came on," said Rangers manager Ally McCoist. "He was a real integral part of the win and we all know he has the ability to change and win games for us. An on-form David Templeton would play for most teams in the country. He has struggled with injury this season. Certainly, there's lots more in his tank that he can show us."
At the start, Rangers were immediately caught cold. Arbroath swept upfield in the opening minute and Alan Cook hared down the left before sending in a cross that went beyond all four Rangers defenders. Lee Wallace was drawn towards the ball, leaving Banjo free at the back post to meet it with a volley, which bounced off the Rangers player on its way into the net.
The goal seemed to perplex the home side, and it took some time before they established some dominance. Arbroath's intention was to sit deep, so the hosts had plenty of possession, but their play lacked a cutting edge. The pressure eventually brought reward, though, when Wallace surged towards the bye-line and delivered a cutback for Daly to turn into the net.
The same pairing ought to have put Rangers ahead before half-time, but the striker missed the ball and ended up falling on it. However, Mohsni did have a header cleared off the line just before the interval, so Rangers ought to have reappeared for the second half in a mood to impose themselves.
They could not eradicate their flaws, though, and some rash, impetuous, defending near the halfway line allowed Linn a clear run on goal. He could have passed, but retained his composure to shoot past Cammy Bell, with the ball bouncing into the net off the post.
Going behind for a second time brought anxiety to Rangers' play, and passes tended to be overhit or misdirected as they rushed their efforts. "We were really made to work for it," McCoist said. "I said to the lads at half-time that for most of the time they played really well. They knocked the ball about, showed a lot of spirit, created a lot of openings and worked hard for each other. But we put ourselves under pressure with the two goals we lost. They were uncharacteristic of us."
Arbroath almost forced an equaliser at the end when the ball bounced of a post after a goalmouth scramble in which the ball bounced off the post, but they were left only with disappointment and frustration.
On the penalty award, manager Paul Sheerin said. "Hamilton was maybe on the wrong side, but the ball was going high so I don't know how much chance Daly had of getting it."