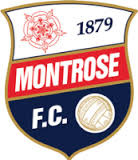 From the Arbroath Herald: The Lichties have pulled themselves from the ashes of a disastrous season nailing their position at the top with a 3-1 win against Montrose.
Moore's side started slowly sharing possession with the visitors before Bobby Linn spun in a left footed shot from the left side of the box to the bottom corner, expertly assisted by Paul McManus.
The veteran pairing showed the benefit of their experience challenging the well-matched Montrose team throughout the match.
It was not long before McBride set up a clear chance for Arbroath. Kevin Buchan got behind the ball and flicked it in to the bottom left corner of Montrose's goal to make it 2 - 0 to Arbroath.
Goaded by the increasing goals against them, The Gable Endies surged towards the Lichties end.
Pressure mounted and 'keeper David Crawford had to step in with a number of punches to clear dangerous Montrose attempts.
A foul by Garry Wood on Crawford earned him a yellow card. Crawford fought on but had to be replaced by Scott Morrison in the 41st minute.
Montrose's Steven Robb used the change to his advantage but his left footed shot from outside the box missed.
Referee Alan Newlands blew the half time whistle with Arbroath 2 Montrose 0.
Montrose emerged from the dressing room ready to attack. However, attempts by Wood, Stephen O'Neill and Paul Watson failed to convert leaving it wide open for Simon Murray to make his scoring debut against his former club.
Murray's fancy footwork gave him time to take a fantastic shot from the centre of the box, sending the baall whistling into the top left corner.
He said: "It was the best feeling scoring a goal, especially against he rivals and to get the three points, just brilliant."
Graham Webster scored a consolation goal for Montrose but frustration showed as Declan O'Kane was then sent off in injury time for serious foul play on Murray.