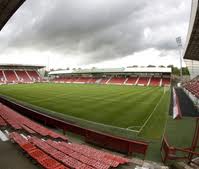 For our second appearance at East End in a week, we started with a very different lineup. Hamilton had a roving role up front behind J Sheerin at centre, McCulloch and McAnespie switched fullback and midfield roles. Gibson was out injured.
Overall as the radio reports confirm, we were very lucky to go down 5-2 in the end. The first half was evenly balanced and we probably carried more of an attacking threat than the Pars.

Jim Hamilton (whose played in two stints for the Pars) gave a masterclass in the art of the centre/inside forward, his smart touches unsurpassed at keeping possession. Darren Hill had an outstanding game brining off a series of fine saves and cruelly it was a speculative longrange strike which didn't stick which put Dunfermline ahead
In the end superior fitness and class told but there was never 3 goals in it. the Pars second and fifth had a strong element of luck about them. And we allowed our concentration to lapse just after we'd score to allow them an immediate equaliser first half. Until Fifer pressures late on, we must have accumulated as many corners as them.
Like last week, the ref allowed the bigger team away with more, and it seems leading arms and shoulders in going for a high ball is now permissible. The strength (and also greater height in this case) of the Pars counted here
Overall both goals were well taken - Sheerin getting in for a headre (poor Dunf marking maybe) then Swankie jinking in from the right to slide an inchperfect consolation late on.
Shields faced a tough time trying to keep Cardle, Dunfermlin's best player quiet.
Overall, last week was an exercise in containment and defensive discipline - this week we carried the game to the home team and created a number of chances. Still a lot to be done but positives for the management team from both showings
CIS Cup

Home Team

Score

Away Team

Time

Dunfermline
5-2
Arbroath
FT

(HT 1-1)

Kirk 14
Willis 74
Kirk 76
McDougall 82
Stuart Malcolm (og) 90+1

Dunfermline

01 Smith
02 Callum Woodsyellow card
03 McCann
05 Dowie
06 Keddie
04 Mason
07 Willis
08 Phinn
11 Cardle
09 Clarkeyellow card (McDougall 56)
10 Kirk

Substitutes

20 Allison,
14 McGregor,
16 Thomson,
12 McDougall,
15 White

Arbroath

01 Hill
05 Stuart Malcolmyellow card
06 Griffin
02 Shields
03 McAnespie (Suttie 48)
04 Falkinghamyellow card
07 Swankie
08 McCulloch
11 Sheerin
09 Hamilton (McGowan 80)
10 Sheerin (Ross 83)

Substitutes

21 Burns,
12 McMullan,
15 McGowan,
16 Suttie,
14 Ross

Ref: CharlestonAtt: 1,283

Possession

Dunfermline 52%
Arbroath 48%

Attempts on target

Dunfermline 14
Arbroath 6

Attempts off target

Dunfermline 13
Arbroath 3

Corners

Dunfermline 11
Arbroath 4

Fouls

Dunfermline 15
Arbroath 14