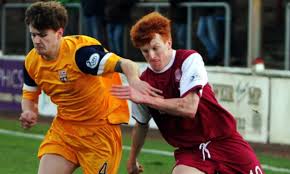 From the Courier: Dundee United striker Simon Murray hasn't been surprised by Dundee's desire to finish above their city rivals.
The Tannadice striker says has heard all it all before and doesn't see why this season should be any different to the last, when United won four out of five matches against the Dark Blues and ended the Premiership campaign higher up the table.
It was Dens skipper Kevin Thomson who voiced the hopes of the Dundee fans just before the new season started that they wished to close in on United.
Paul Hartley's men then showed they meant business by going down to Kilmarnock and playing superbly on their way to an eye-catching 4-0 win.
The following day United's defeat at home to Aberdeen had some asking if the tide was turning in the city.
However, United got back on track on Saturday by winning at Motherwell – with Murray scoring in a 2-0 victory – while the Dark Blues lost out at Dens to Hearts.
So after opening weekend worries, the Tangerines' supporters will be in a more positive frame of mind going into tonight's clash at Tannadice and Murray thinks they are right to be optimistic.
Asked about the talk of Dundee perhaps having the edge over United this season, Murray said: "I think they have said that every year, to be honest.
"It's not happened yet and I don't think it will happen.
"Being from Dundee I know what the fans are like and the majority of my pals are Dundee fans.
"They have been giving me a bit of stick but hopefully I will have the last laugh this week.
"They can be like that but we are not going to shout about being ahead of them.
"They can say what they want - it will be their downfall if they do.
"Dundee got off to a good start against Kilmarnock and looked good in the first half against Hearts but didn't play so well in the second half.
"So we will see what happens in the derby.
"United have won almost every one of them in the last 10 years bar the game at Dens Park last season."
Dundee-born Murray is relishing the prospect of playing in front of both sets of fans from his hometown.
"They are great occasions," he said.
"It is the best game for me as a Dundoanian and I can't wait to experience it because very few people from Dundee can ever say they have played in a derby.
"I will have family there and some support Dundee and some support United.
"So there's a bit of divide and the household might not be a happy one depending on the result."
Remarkably, 23-year-old Murray was something of a veteran in the United line-up at For Park on Saturday given the youthful complexion of Jackie McNamara's team.
Despite the demands of a derby, both mental and physical, he isn't worried about the home players being too inexperienced.
The former Arbroath man said: "We have a young team and I think the average age was 21 by the end of the Motherwell game.
"I was the third oldest on Saturday at one point and I am just 23.
"Paul Dixon was the oldest at 28 – he is the grey one of the group and is an old fogey already.
"So it's incredible but you can only play to get experience and I think the lads are improving all the time."
If Murray hits the net tonight he will try to avoid falling flat on his face, as he did at Fir Park when celebrating his stoppage-time strike.
"The boys have given me a bit of stick for that," he said.
"I might have got a bit more if I had stayed down but it's a good laugh and I'm not bothered.
"The referee booked me for going behind the goal. He joked he thought I was trying to get more time on the telly.
"But I will take a booking for that after scoring my first goal.
"It's great to get off the mark, as a striker it gives you confidence.
"I know I can score goals so it's good to get one early on.
"Hopefully, I can get another one in the derby."