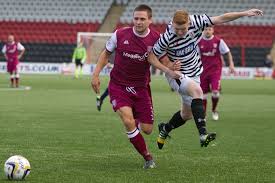 From The Herald: There could not have been a greater disparity between the two halves of last season from an Arbroath perspective.
The Lichties had seemingly sewn up the League Two title by Christmas after an outrageous start to the season, led by the goals of Simon Murray - who won a move to Dundee United - and Paul McManus, the wizardry of Bobby Linn and the guile of Mark Whatley.
But as 2014 became history so did the side's form, and they didn't win a game until the middle of March.
The club parted ways with manager Allan Moore on the back of this miserable run of form before appointing his assistant Todd Lumsden as his successor.
Todd was able to guide the side into the play-offs but they couldn't make the final despite being much the better side against Queen's Park over both legs.
It was a combative title race last season between Arbroath, Queen's and eventual winners Albion Rovers, with each team fumbling the advantage whenever it was handed to them during the course of the campaign.
The new campaign looks like it could be just as tight, with free-spending Clyde, recently relegated Stirling Albion and a refurbished Arbroath expected to lead the way in League Two.
Gus MacPherson's Spiders and East Fife cannot be ignored either.
For Arbroath club captain Mark Whatley, it's important to take the lessons - positive and negative - from the story of last season and come out of the traps flying.
Whatley said: "We're hoping for a winning start to the league. You saw last year that we got off to a good start and we want to do the same this year.
"We've got a good group of boys, the ones that stayed and also the ones that have came in. They seem to be getting on really well and that helps on the pitch, but in terms of their ability as well they look to be good additions. You want a winning start, every game in this league is tight but every game is also winnable.
"You've just got to learn from these things. You take the positives out of them and learn from the negatives from them, particularly the second half of our season. Then we just have to move on.
"If we can get the same start to the season as we did last year we'll put ourselves into a right good position to kick on into the second part of the season.
"It's going to be tight so it's an exciting one. That's the good thing, anyone on their day is a match for anyone. There isn't a standout team but obviously you fancy yourselves going into every game.
"There are lots of teams who, on their day, can pick up three points. You've got Clyde who have signed a few players, Stirling Albion have dropped down, East Fife are always there as well as Queen's Park.
"So there are lots of teams aiming for promotion and that's obviously our aim as well. Hopefully we can work hard and earn promotion this year."
An important thing for any boss to consider is getting the right mix of players both on and off the pitch; there's no great value to, say, a 15-goal-a-season striker if he's a disruptive influence in the dressing room.
Perhaps then the significant loan activity at Gayfield Park contributed to the loss of form post-December.
Regardless, Lumsden has this summer moved to bring in the right kind of characters and personalities to replicate what Whatley says was a great group of lads last season.
"The big thing last year in terms of the players was that we had a great group of guys who all got on really well, and it definitely had a positive impact on the pitch," says Mark. "This year we've brought in some characters.
"Off the pitch it's a great laugh. Big Lewis Coult has got to be one of the funniest boys I've ever come across in football. Andy Munro is a cracking funny guy. But they've also brought great quality to the side in terms of footballing ability.
"We've got boys in who will perform when the season starts.
"All the boys brought in have fit in well and are all great guys, so it will be a pleasure to work alongside them and aim for promotion.
"Kane has looked sharp in pre-season, he's scored a few goals in friendlies. Then there's the really experienced guys like Graham Hay, Jamie Clarke, Martin Grehan."