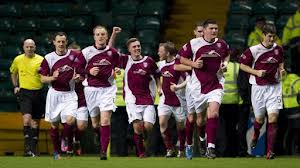 At a chilly Gayfield, with the night turning colder, Arbroath made a great showing with some disciplined football against the Champions League playoff qualifiers.
We - the patttimers - got stronger second half, had some nice passing movements and gave Celtic some very uncomfortable moments.
A mistake by Hamilton after around 18 minutes allowed Mathews in down the right and he unleashed an unstoppable shot into Morrison's top right hand corner. As the first half wore on, we came more into the game, forcing several corners though created nothing clearcut. Celtic themsleves missed a decent chance as Morrison did well to block Lessad after 33 minutes.
Second half, Celtic started briskly and with more purpose but we forced our way back into the game. We probably looked the more cohesive passing side at times and started carving out some chances. A neat one-two between Doris and Currie saw Currie shoot a couple of yards wide.
Then, after several corner down the right, Forster fumbled and Doris smashed in Paterson's return header. It was disallowed but the watching TV audience found NO evidence of any foul - a real lucky break for Celtic,
After the substitutions - Rennie, Birse and Holmes on for Kerr, Sheerin and Sibanda - we broke in numbers and Doris fed a great ball to Birse who narrowly missed evading Forster outstretched leg.
The nearest Celtic came was when Morrison could only half clear a cross from the right and then had to dive to divert the header back.
We gave it a good shot and Celtic were relieved to get through to the next.
A superb second 90 minute showing from the team. No failures they all played a great part. Doris and Currie stood out - maybe a problem with the transfer window coming up
The officials were poor - the linesman gives Celtic an ealry boost by giving an undeserved corner. Kerr and especially Malcolm very unlucky to be be booked and then there was that disallowed goal. I think Mulgrew was lucky not to be more harshly treated when he slipped and showed his studs to bring down Currie. Samaras's booking, by contrast was also a joke
In post-match interviews, Neil Lennon seemed to suggest the frostier pith 2nd half made passing more difficult - but it ws the same for both teams. We looked no less skilled and no less fit than these overpaid `stars'
Well done Arbroath and very unlucky not to get a result - now there's a more important game this Saturday so hope you can recover. We've shown we can be a real decent team
see another match report: http://espnfc.com/uk/en/report/358051/report.html?soccernet=true&cc=5739
see match stats: http://www.sportinglife.com/football/live/match-stats/280405/arbroath-v-celtic Celtic had more possession but we won more corners, conceded fewer fouls