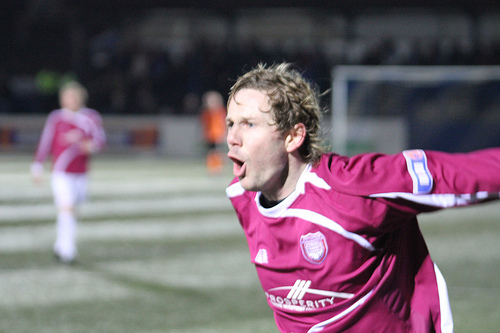 From the Courier: ...... McAnespie was a team-mate of manager Sheerin in his second spell at Saints, and he admitted it was Sheerin's powers of persuasion that lured him to Gayfield.
He said: ''I went up there because of the gaffer. He convinced me to come up for training and have a look at the set-up, even though I think he was looking for a centre-half at the time.
''At Saints, I was actually next to the gaffer in the dressing room and I think me and Dinky (Kevin Rutkiewicz) used to drive him demented!''
He added: ''Everybody loves coming to training, and that's something that comes from the gaffer. I think there are five of us who travel to Dundee and Perth for training from Glasgow, three from Fife, and a couple from Edinburgh.
''It's about an hour and 40 minutes to get up there from Glasgow but it sometimes feels like a week to get there and a week to get back! It's not something you'd do if there wasn't a great team spirit.''