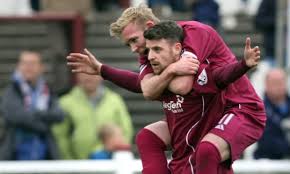 From The Courier: Bobby Linn netted a dream double to put his side's poor recent derby form to bed – after taking a break from late night baby feeds.
Linn scored a goal in each half as Arbroath swept aside Angus rivals Montrose to avenge back-to-back 3-0 derby losses to Paul Hegarty's side.
And Linn handed the credit to his return to form to partner Kayla after she gave him a break from looking after newly-born baby Harvy on Friday night.
Linn said: "I'm still not getting a lot of sleep at night but I had a good rest before the game.
"My missus Kayla deserves a shout out and all the plaudits because she gave me a free night. She took Harvy the whole night to let me sleep and it helped me. Those goals are for her and my wee girls Blaike and Harvy.
"They are also for the fans. I've said before how important they are and you could see what this meant to them.
"I speak to the fans all the time and I know how they hurt when we lost at Montrose earlier in the season.
"I've been here three years and that was the first time they have ever had a real pop at us."
Linn, named League Two player of the month last week, grabbed the opener on 21 minutes when he got on the end of a Darren Ramsey cross to drill home from close range.
The Lichties continued to dominate their rivals as Montrose struggled and Linn grabbed his side's second midway through the second period.
He burst into the box and blasted under Montrose keeper Jordan Millar.
Trialist Greg Rutherford stumbled the third over the line before a late Graham Webster volley gave Montrose a consolation strike.
"You can see what Bobby brings to our team," said Lichties manager Todd Lumsden. "I keep saying to him to get on the ball because he makes things happen for us."
For Montrose, the defeat puts a spike in their promotion ambitions but they are still ahead of Arbroath in fourth spot and much improved on last term.
Boss Paul Hegarty said: "We are struggling for consistency. We have had five wins and five defeats so far and that sums up our season."