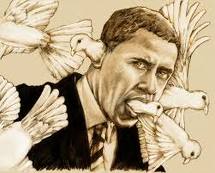 From the Courier: Stressing the positives
..Sheerin admitted that Shields' first-half sending-off had left Arbroath with a huge task but believed they had battled well before Stranraer's late third goal "knocked the stuffing" out of his team.
"It's always difficult when you go down to 10 men. It's hard to be a man down for such a long part of the game and I think it had a bearing on the final outcome towards the end of the match.
"Shields definitely handled the ball but Alan Ratttray was coming back to cover at the time. "I think the ref thought the foul stopped a goal-scoring opportunity, but I think he was a wee bit unlucky to get sent off for it."
"The red card had a bearing on the game though. We weren't sure what shape to go to when we were at 10 men. Doris got us back in with a shout but then Winters got their third and that seemed to knock the stuffing out of us."
Despite the disappointment Sheerin was pleased to see Rattray and Doris put in lengthy appearances on their return to the starting line-up. "It was good to get Rattray back. He got 90 minutes for us and did well for us, so that was a positive. Doris played for 70 to 75 minutes, which gave us another positive from the game

From the Press & Journal : Sheerin remains positive after second 4-1 defeat
ARBROATH crashed to their second 4-1 defeat in three weeks but player-manager Paul Sheerin insisted there were positives to draw from Saturday's performance.
Stranraer cruised to victory in a Third Division match where Arbroath's Jay Shields was sent off in the first half.
The home side started brightest and were in front after just 13 minutes. Scott Agnew's free kick came back off the wall and he fired home the rebound from 25 yards. The chances of Arbroath getting back into the game were dealt a blow on 38 minutes though when Shields was sent off for denying a goal-scoring opportunity when he handled the ball.
Agnew (59) added a second after the break before Arbroath pulled one back with 20 minutes to go. Kevin Nicoll gave the ball away in the Stranraer defence and Steven Doris nipped in before coolly lifting the ball over keeper David Mitchell.
Any hopes of a comeback were killed off though when Craig Malcolm and then Armand One fired home in the final 15 minutes.
Sheerin said: "We worked really hard and I have certainly got a lot more positives out of that 4-1 than the Berwick 4-1 loss a couple of weeks ago."