From the Queens Park website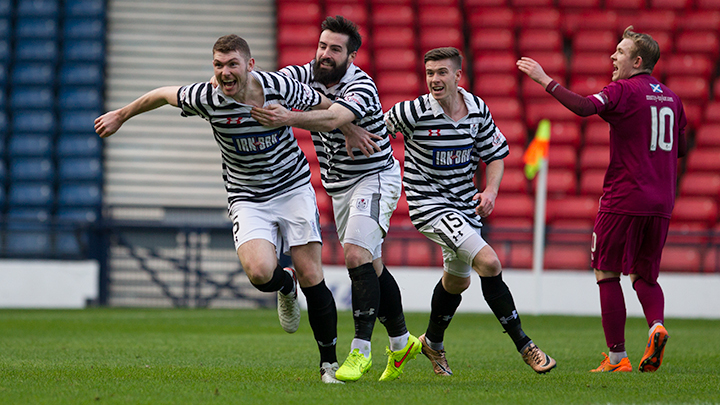 Queen's lined up 4-4-2, with full backs Mitchell and McLeish either side of McGeever and Wharton; Woods, McKernon, Berry and Burns in the middle; and Galt and Duggan up top.
Queen's have won all three previous games this season against Arbroath, and by the odd goal.
The Red Lichties are second bottom, eight points clear of the dreaded pyramid play-off spot currently occupied by East Stirling, having beaten Shire 3-0 last week to end a run of just two points from seven games.
Red Lichties' new boss Dick Campbell is on his third visit to Hampden this season, having been here twice on cup business with former club Forfar. And as always he had a friendly word with the chaps in the press box on his way from the posh seats to the tunnel and dressing room.
Arbroath had former Spider Ricky Little available after suspension and he was in central defence, while former loan Spider David Gold was on their bench.
Arbroath in their all purple kit kicked off in brilliant sunshine which bathed almost half the pitch.
That strong sun could have played a part in Arbroath defender Shaun Rutherford not connecting properly with a headed clearance in five minutes. It fell neatly at the feet of Duggan, but he miscued his shot from just outside the box and it bounced wide.
Duggan was at the heart of the next chance, in eight minutes, but clear in the box he failed to get his head on a good cross from Mitchell.
Burns did well to get into the box down the left but he hit the first defender with his cross.
Queen's were having more joy down the right, and almost scored in 12 minutes with a good move. Mitchell at pace brought down a ball from McKernon and knocked it past a defender to Duggan, who from 20 yards saw his shot saved by the legs of the advancing Fleming.
Wee winger Bobby Linn usually plays well against Queen's, and his first run saw him create a good opening that was stopped only by the linesman's flag for an offside as Linn played the pass.
Queen's passed up another good chance in 20 minutes. Munroe conceded a corner under pressure from Duggan, McKernon fired it over, and McGeever rose unchallenged at the near post but headed over.
Two minutes later Woods moved onto a Galt pass and saw his shot saved low down by Fleming.
Berry was slow in turning on a pass and was robbed, and when Linn found himself clear in the box on the end of the pass, McLeish slid in to make a vital interception.
But Queen's took the lead in 32 minutes, and with a fine goal. Woods sent Duggan away down the right into the box, the striker opted for a square pass to his left instead of a shot, and Woods had continued his run and met the ball perfectly to sweep a shot high to Fleming's right side.
A positive response from the wee playmaker to his half-time substitution in midweek.
Queen's deserved to be in front and it could have been 2-0 in 37 minutes, Duggan this time playing in Galt for a shot that Fleming pushed round his right-hand post.
The chances were falling thick and fast. A minute later it was Galt again, knocking in a header at the far post that Fleming did well to hold.
Half-time: Queen's Park 1 Arbroath 0
No need for changes after that first half from Queen's, but Arbroath sent on Hester for Loudon and the visitors were almost picking the ball out the net for a second time inside a minute.
Galt showed good footwork along the byeline to set up a cross that Duggan hooked just wide.
It was 50 minutes before Arbroath got in a real shot, Ramsay doing well to step inside a challenge and rifle a left foot shot that Muir took low down.
It may have been their first shot of any note, but out of nothing Arbroath equalised in 54 minutes.
The cross from Skelly, on the right touchline, looked speculative at best but it fell perfectly for sub Hester to get the merest of touches with his head and guide the ball past Muir and in at his right-hand post.
Very much against the run of play, but Queen's have had their chances to close out the game.
Woods wasn't alone in claiming for a penalty in 57 minutes when his shot appeared to be blocked by a hand but the referee was having none of it.
The ref got himself in a fankle in 59 minutes. Skelly blatantly tripped Galt as the Spiders striker raced through the centre circle. The ref blew for the foul, changed his mind and waved play on when Burns got possession on the left, and then blew again when the farside linesman called Burns for offside. He did get it right when he booked Skelly.
The goal had energised Arbroath and they were finding more of an attacking intent as we headed past the hour mark.
Our first change came in 70 minutes, Burns being replaced by Bradley. It was stalemate now, and the second change came in 79 when Galt was replaced by Hynes.
Wharton was booked for a foul as Queen's continued to press, but we were creating few clear-cut chances despite the superior possession.
McGeever was next in the book, for who knows what, as the game became scrappy, Queen's became anxious, and the decisions of referee Roncone even more bizarre.
But finally, with 90 minutes showing on the Hampden scoreboards, Queen's found that lucky horseshoe and a reward for their efforts.
McKernon's corner was cleared to the edge of the box, McLeish hammered in a shot, and the ball struck best man McGeever's head and diverted past a stunned and stranded Fleming and into the net.
Did McGeever know anything about it? Who cares! With only Elgin among our four main rivals not winning, this was a vital three points for Queen's.
Queen's Park: Muir, Mitchell, McLeish, Berry, McGeever, Wharton, Woods, McKernon, Duggan, Galt, Burns. Subs: George (gk), Bradley, Hooper, Hynes, Mortimer, McVey, Baty.
Arbroath: Fleming, Wilson, Shaun Rutherford, Little, Munroe, Whatley, Linn, Williams, Skelly, Ramsay, Lowdown. Subs: Reid, Hester, Alvarez, Greg Rutherford, Gold, Brodie (gk).
Referee: Mike Roncone.