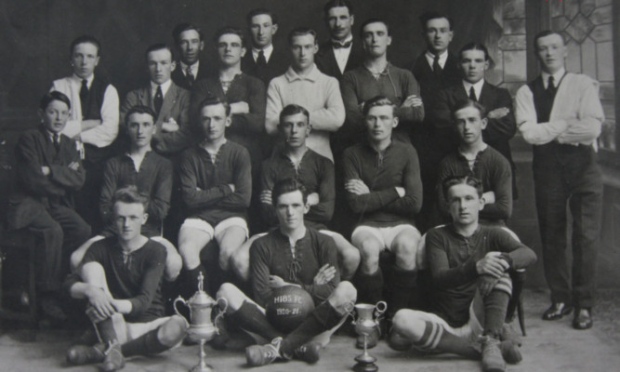 From the Courier 10th August: The Courier has been able to help an Angus museum solve the mystery behind a football photograph that's almost 100 years old.
The Signal Tower Museum in Arbroath asked for information about the image that was donated some time ago but they have been unable to classify.
The black and white picture shows a line-up of footballers wearing shirts with lace-up collars and holding a ball that states 'Hibs FC 1920-21'.
Senior museum assistant Kirsten Couper initially assumed it was an image of Edinburgh club Hibernian.
However, looking at the back of the photograph, she noticed the words 'Arbroath Hibs' and the stamp of an Arbroath-based photographer, Mr Geddes.
An internet search found no mention of Arbroath Hibs but a hunt on the British Newspaper Archive revealed more. This online archive has scanned every Courier newspaper from 1844 to 1953.
Searching the database found hundreds of match reports of Arbroath Hibs between 1900 and 1935, when they were a prominent juvenile team in Angus.
They competed in the Arbroath and District League as well as several junior Angus cup competitions.
Hibs won the Forfar District Cup in 1932 against Brechin Keithock United. The Arbroath side scored four times in the first 20 minutes before Keithock got one goal back before half time.
A tightly contested second half saw Hibs emerge as 4-2 victors. The side were also runners-up in the Newgate Cup in 1925 and the Whitton Cup in 1930 and 1932.
The team appears to have folded in 1935, with the only subsequent mention a reunion of the "defunct" juvenile team in 1949 at the Royal Hotel in Arbroath.
Mrs Couper said: "We have struggled to find out any information about the photograph. I thought it was a photograph of Hibs but then I was puzzled by the words Arbroath Hibs written on the back."
The British Newspaper Archive is a partnership between the British Library and Dundee firm brightsolid to digitise up to 40 million newspaper pages from the British Library's vast collection.