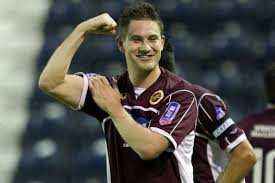 Shame he seems to be a fan
The Provocation
Stenhousemuir striker John Gemmell has called Rangers boss Ally McCoist a "p****" in a no-holds-barred Twitter tirade ahead of Stenny's League One clash.
Gemmell claimed he would have loved the preparation their pampered stars will get before the game – but he was too busy working and scoffing a pot noodle!
McCoist claimed on Friday his club were being singled out after being scheduled to play four games in 11 days, three of them away from home.
However, stats show they're just one of 12 SPFL clubs putting in the same shift – with some playing four in 10 days.
And the 29-year-old hitman posted on Twitter: "McCoist is a p****, game against Stenny should be midweek?... Why, so we are f****** after working all day whilst your boys can lie and get a massage for three days before checking their £5k a week wages are in? Away and ****off #Embarrassing.
"Can't wait to get a massage after training today and a nice healthy meal after too .... Actually I'm working 2-6, probably with a pot noodle.
"I'd have loved to be full time at Rangers with all the best treatments and facilities available."
Gemmell, who now looks certain to be in trouble with Hampden chiefs, was accused of being a Celtic supporter at the wind-up as Rangers fans responded to his tweets.
But he hit back: "Still a season ticket-holder at Ibrox, you *****. Just fed up listening to guys like McCoist moaning when they've got the best job in the world."
After being accused of just being a keyboard hardman Gemmell, nicknamed "The Don", joked: "If Ally is there tomorrow I have no problems making my point, what's he going to do – eat me?"
The Response
SCOTTISH Football Association compliance officer Vincent Lunny was last night weighing up whether to issue a disciplinary charge against John Gemmell following the Stenhousemuir striker's allegedly abusive tweet aimed at Rangers manager Ally McCoist.
The Ochilview striker hit out on social media following the Ibrox gaffer's moans that his team were being asked to play four games in 11 days, three of them away from home.
The Warriors marksman called the Ibrox manager a 'p****' for arguing that their game at Ochilview should have been played in a future midweek instead of on Sunday.
After an expletive-peppered rant, Gemmell – a Rangers season-ticket holder – added: "Just fed up listening to guys like McCoist moaning when they've got the best job in the world."
Lunny is considering whether to begin proceedings against Gemmell for the comments, with a letter to the player and/or Stenny expected to be the first action in determining whether to issue a formal notice of complaint.
Hibs striker Rowan Vine was served with a notice of complaint earlier this season after taking to Twitter to respond to Neil Lennon's claims he had been responsible for a 'rugby-esque' tackle in the 1-1 draw with Celtic in October.
Vine, who was charged with 'making offensive comments on Twitter suggesting the use of violence', was censured by the SFA following a hearing in November.
Rangers defeated Stenny 2-0 on Sunday, with McCoist having the last laugh after embracing substitute Gemmell at the end of the rearranged League One match.
The Ibrox manager made a joke of the whole affair, saying: "I get called worse in my own house," before adding: "The really worrying thing was that about 60 per cent of our dressing room agreed with him!"