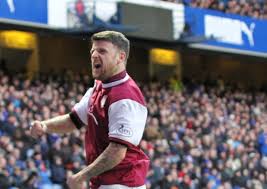 From the Courier:
Bobby Linn has dedicated his goal to the Arbroath ultras, a group of young Lichties fans with whom he has formed a bond.
The ex-Dundee and East Fife frontman celebrated with those same supporters after grabbing his side's second in their 2-0 win at Gayfield over Stirling Albion on Saturday.
Partying with the punters behind the net on 51 minutes cost Linn a booking but he felt it was worth it because he was repaying the 40 or so teenagers who congregate there for their support.
Linn said: "I am getting a bit of stick from the boys in the dressing room but, for me, it is young boys we are talking about here and they are choosing to come to watch us.
"They are at an age where they themselves could be slaughtering people for going to games to see Arbroath and could be getting up to mischief.
"Instead, they are turning up in their numbers to watch us.
"There is light-hearted banter, they bring their drum and have their designer clothes that they all wear. I think it's great.
"To have 40 or so youngsters aged about 15 or 16 years of age coming to watch us is excellent.
"All credit to them and every goal I score here is for them.
"I said to them before the game that if I scored it would be for them and I meant that.
"So I will take the booking for the celebration.
"It is all fun and I chat to them on Twitter and they are well-mannered young guys with an interest in Arbroath.
"They are travelling all over the country to cheer us on and I feel privileged to play in front of them."
As well as the teenagers, Linn had an even younger person in mind when he drilled home his low shot to add to Sergio Cecilia Alvarez's opener two minutes earlier.
With a new member of the family recently arrived - baby daughter Harvy - the dedications just kept on coming.
He said: "I would like to give her a special mention and since she was born I have managed to score a couple of goals so that's great.
"I am not getting much sleep but everything's fine!"
Gayfield gaffer Todd Lumsden was pleased to see his players build on their away win at East Fife the previous weekend, saying: "We scored great goals out there involving good pace and good finishing.
"I was delighted to see Sergio get a goal and Bobby has now grabbed two in two games.
"It was also great to keep another clean sheet and the boys battled hard for that.
"It gives the defenders and goalkeeper confidence and that spreads throughout the team.
"Now the lads are getting the rewards for good performances."
Next up for Arbroath is the Forfarshire Cup final against Forfar at Gayfield on Tuesday night.