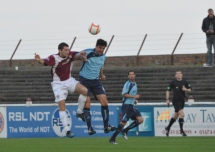 Arbroath held off a strong Forfar assault (in both senses) at Gayfield to march into the Ramsden Cup quarter finals.
In a physical and competitive game, Arbroath edged out rivals Forfar with all goals coming in the first half. Ex-Lichties Swankie and Gibson scored decent goals for the Loons but they were always playing catchup as Paul Currie scored a quality opener then Gribben added two clinical strikes towards halftime
The Lichties changed the starting lineup with places for Rennie, Mair and Holmes. The first half really was an end to end game, as long balls from goal kicks and the increasing number of free kicks awarded for heavy tackles broke up the flow and essentially ended any kind of passing play. Both Mair and Keddie received yellows for separate incidents of unsporting behaviour at this time.
The second half was by far the scrappier of the two, with both sides looking a little played out after the restart.
Post-match Forfar manager Dick Campbell was understandably disappointed with the result. He said: "Ultimately that usually happens when you go down to 10 men, you play a bit better. Swankie missed a few at the end there, but any team I've ever managed in my life I've always had workers. They worked hard tonight, but there was no quality, I felt for them, I really did feel for them."
Lichtie boss Sheerin added: "We held on. Forfar, they made it hard for us and we didn't keep the ball well enough, which is a real frustration from our point of view.
"But saying that Darren [Hill] made some great saves, but other than that it was all huffs and puffs."