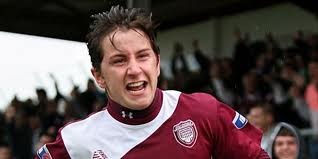 From the Daily Record: JOSH FALKINGHAM is a wee guy with a big ambition – to cut Rangers down to size in the Scottish Cup on Sunday.
Falkingham stands just 5ft 6in tall but what he lacks in height he more than makes up for with courage.
So much so the midfielder, who learned his trade at hometown club Leeds, has been likened to former Elland Road firebrands Billy Bremner and David Batty.
And when the 21-year-old lines up for Second Division Arbroath against Rangers at Gayfield, he will summon up every ounce of his never-say-die spirit in a bid to pull off one of the biggest shocks in Cup history.
Falkingham was signed by Leeds when he was only eight and admits he was shattered to be released in 2009. But he hasn't abandoned his big-time dream and knows Sunday is the perfect opportunity to
showcase his talent.
Last night he said: "I always wanted to become Bremner and Batty as they were both great midfielders for Leeds.
"I looked up to Batty as he was a central midfielder and had that bit of nastiness about him.
"He was small and I loved his style. It's also a massive compliment to be compared with Bremner as he is a Leeds legend.
"We will need the spirit he and Batty showed when we face Rangers. We are the underdogs and there's no getting away from that.
"But we've everything to gain and nothing to lose. Rangers will look at it as everything to lose and nothing to win, so we just have to go for it."
Falkingham sweated buckets in his bid to star for boyhood heroes Leeds and admits not gracing the Elland Road turf still haunts him.
He said: "I signed with Leeds when I was eight and went all the way through the academy.
"In 2001, when we reached the Champions League semi-final against Valencia, I was 10. It was an incredible time to be involved with the club.
"I wasn't just a player but a fan too and my dad was and still is a massive Leeds supporter. Some of the players we had in that era were incredible. We had Rio Ferdinand, Jonathan Woodgate and Alan Smith, who was a homegrown talent I could look up to. My Dad and I had some unbelievable nights such as when we beat Deportivo La Coruna.
"When they signed me it was amazing. But I never got the chance to make it.
"My biggest regret in football is I didn't get the chance to walk out on to the Elland Road pitch and play.
"I dreamed about it from the first day I played football and it has gutted me since I was released.
"When Gary McAllister took over, I was invited to travel with the squad a lot but I got injured at the wrong time which didn't help."
Falkingham loves pitting his wits against the best so Sunday's Cup clash can't come soon enough.
He said: "The buzz of the whole town coming together will be brilliant.
"As top professionals it's the Rangers players' jobs to handle playing in Arbroath and I'm sure they will.
"They could see this as a banana skin and we see it as a massive game.
"I just can't wait – with the fans behind us it'll be amazing. To sneak an early lead would be great.
"Rangers are massive. It's a great feeling for me to test my skills against players of this quality. I want to prove myself at the best level possible."
http://www.dailyrecord.co.uk/football/cups/scottish-cup/2012/01/04/scottish-cup-arbroath-ace-josh-falkingham-puts-faith-in-bremner-esque-courage-against-rangers-86908-23678580/