Today's Courier raises the possibility that, if Stirling Albion are liquidated as a result of a court action to recover debt then Brechin, as Div 1 playoff finalists - would replace them. Would there be any repercussions for Arbroath?
I doubt anything will happen but, like Cowden and Airdrie last close season, i suppose there is a slightoutside chance we may not be playing in Division 3 next season. Anyone have more info?
The Courier
Brechin would be in line for promotion to Division One if the financial woes of champions Stirling Albion were to finally sink them.
And Albion—reputed to be £1.5 million in debt— are facing a preliminary hearing at Stirling Sheriff Court on Tuesday to answer claims they owe Stirling Council around £100,000 for rent and other dues on Forthbank Stadium.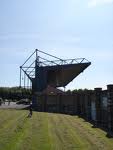 A little under 12 months ago Livingston were relegated to the third division after going into administration, leading to Airdrie United being restored to Division One and Cowdenbeath being promoted to replace them.
As Division One play-off final losers, Brechin would take Albion's place in the top tier of the SFL should a similar fate befall the Binos