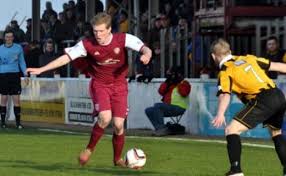 From the Arbroath Herald: Colin Hamilton admits that he couldn't say no to pull of old club Arbroath
Colin Hamilton admitted there was an attraction to Arbroath that he couldn't ignore when Dick Campbell came calling.
The manager has spoken to the former Alloa Athletic a few times in the last couple of years and Hamilton was a key target for Campbell's new Lichties squad.
It's a return to his old stomping grounds for the left back and Colin said the manager's ambition was a big part in his decision to go back to Gayfield.
He added that the size of the club's support was very impressive in his previous spell and he's keen to get back playing in front of them.
"The manager was a part of it for me returning to the club. You get a good feeling about something and you go for it.
"There was a pull there. I've spoken to the manager over the last couple of years, and I just felt with the other boys he's bringing in he's clearly wanting to challenge for the league.
"He's always had big ambitions and he wants to take the club up two levels not one.
"It's a big club obviously, the fan base when I was there was big with 600-700 fans every week.
"I loved my time at Arbroath, it's where I started playing my first team football. There's a couple of boys still there, Steven Doris has come back as well.
"He's retained a lot of good boys as well as signing some top players."
Hamilton assured the fans that good times are right around the corner as a quality side begins to take shape.
And he shares the fans' excitement as he cannot wait to get going, even though the last season has only just finished.
Coling said: "They're exciting times ahead, 100 per cent.
"I'm just looking forward to getting going again for pre-season.
"I've had a holiday and I'm away again next week so I'm just excited to get back on the park."