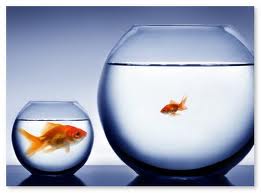 Observing the player transfers between clubs in Div 2, there are one or two that seem to be spending a bit more than the average already during the close season - Stenny (income from the plastic), Brechin (dodgy farm money) and maybe others.
Still there seems to be no one club able to buy the league - as Livi, Gretna, etc have done in recent seasons. So how will Arbroath fare?. Even though the cub is well run, we have no obvious cash cow to generate much addiitonal funds for players' wages etc? Will we become a smaller fish in a bigger pond?
This past season, i suspect Arbroath were able to compete with most of the Division 3 competition financially as was shown in the calibre of players we had in our squad. A bigger fish in a smaller pond
One observation from P& B: "Div 3 pros typically get £50-£100 per week; plenty of Div 2 guys will be on that money as well, although there are far more in the £150-£250 bracket" - .