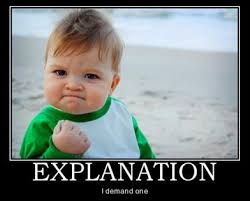 The first eleven - reasons why things have gone wrong with the Lichties since 2015 started

1. Defensive frailties:- the loss of El-Zubaidi, quickly followed by Nichol and McBride, with Johnstone also injured in spells caused serious disruption. The inexperienced loan signings recruited to fill the gap are raw and unfinished. No successful side is built on a shaky, regularly changing defence. The younger players can struggle to match experienced opposition attackers who push them around. The lack of leadership has been evident while Nicol was out.
2. Overdependence on the twin strikers: A large percentage of our goals came from our potent front two with very few contributed by midfield or defenders. Once the strikers hit a lean patch (Murray after his move to Dundee Utd - distracted? worn out? overeager?), McManus losing his scoring touch), there were fewer options. Even now, we are still creating plenty in attack but very few midfielder are running into the box to create more attacking options. Our shots from distance are just woeful. Bobby Linn, a bright spark otherwise, and Adam Hunter - both real assets - have poor conversion rates. But there's been a real lack of composure or edge also
3. Loan dealings caught up with us: Short term signing of Easton was wasteful, and those others brought in are raw and inexperienced, compared with dealings by other clubs in our league. Having said that McCallum has been a decent signing.
4. Fair weather football: once the pitches have turned heavy and the weather stormy, we lacked the physical presence to compete with more muscular sides, can no longer play the ball around on the surface and lack the height to compete aerially - more high balls in winter football . Gayfield itself is no longer a decent surface even disregarding the wind. Carreiro seems to exemplify this type of football
5. Team selection and tactics: Too much disruption to the preferred starting eleven, some unavoidable, due to injuries and loan arrangement. Capable players such as Little and Johnstone not in the starting line-up even though bolstering the defence was needed. Recent adjustments looks like desperation (perhaps understandable). None of the subs has really created much impact. Some criticisms of playing the diamond formation on occasion
6. Teams know how to play us: Teams have worked us out. The likes of Shire and Annan, barely bothered to attack early on, content to keep a tight well-organised defence and as we become frustrated and a bit stretched, either hit us on the counter attack or take advantage of our poor defending of set pieces.
7. Loss of confidence and morale: Losing like winning, becomes a habit. We've started very positively and playing with purpose in the last 3 games we lost but when we are not getting the breakthrough, the play becomes a bit more ragged and lacking conviction. Some fans are starting to be more vocal with criticism which is counterproductive.
8. Losing the dressing room?: As with his last season with Morton, the management team became rattled when results against us and turned on the players, in the press and in the dressing room. yet the fans have not criticised the lack of effort or commitment by the team merely frustrating at not getting result.
9. Not matching our competitors: Title winning teams know how to grind out a result from any game (even a draw) and, critically, avoid losing to near rivals. Yet start of the season apart, games with Queens and Albion have been lost, allowing them to gain ground and above all, belief.
10. Bad luck: Just not getting the breaks. In general, we've not been rewarded for our attacking possession and intent. We've had enough possession , enough attacks and arguably, enough chances to have a better recent record. But nothing has been falling for us (except the goal v E Fife at home), no deflections, defensive errors, penalties. Maybe we used up our luck early on.
11. Finding our deserved level: Did we overachieve early in the season? Was it a false start? Most Lichtie fans did not harbour huge expectations at the start of the season and it was only after managing to put a few results together that we were perhaps lulled into believing we were better than we were. Some other clubs, such as East Fife, Clyde had correspondingly poor starts but seem to have rectified that. Maybe we've just found our proper place