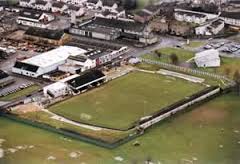 Views from the Elginfans forum
Good grief what a game. About time we had some luck and it was great to see how much the win meant to the team,
An excellent win against an Arbroath team short on confidence.Every Elgin player ran their socks off including Shane who had a very good second half. The first half was awful with both teams unable to control the ball in the strong wind and sun.A draw at half time was fair.Arbroath scored when Elgin were down to nine men. This seemed to galvanise Elgin who dominated the last half hour despite several players carrying injuries and Gunny and Shane were substituted but not before they each scored excellent goals.
This was definitely a game of 2 halves with the first half being almost forgettable with neither team contributing very much to the game.

Arbroath appeared to win the toss and elected to play into a stiff wind. Whilst City had the benefit of that wind in the first half, they really did'nt create very much, overshooting Gunny and Shane time and time again. Arbroath, on the other hand, seemed content with what they started with and were obviously looking forward to having the wind in their favour in the second half. Just before halftime Duff came close for City, but his shot was saved low down by the Arbroath keeper. I've just glossed over that first half, because in all honesty, not a lot was happening, although I should really give a note of praise to Reid who was perpetual motion and was'nt giving the Arbroath defenders any peace at all.

At the start of the second half, I thought Arbroath would come out with all guns blazing, but they did'nt, and were quite happy to pass the ball about, interspersed with a long ball over the top which, for the most part, gave City numerous goal kicks. But they did go into the lead following a clash of heads between 2 City players. Jamie Duff and Daryl Mhardy's heads came together with a sickening thud and both lay motionless on the turf. Play was immediately halted whilst both players underwent attention. Daryl came round first, but it was obvious from the blood flow that he would'nt be playing any further part in the game. Indeed, when he came off, he went straight up the tunnel. on the other hand Jamie headed to the dugout for some patchwork to be done to, what looked like, an eye injury. So City were down to 9 men when play was re-started, and the penalty was fully paid when Arbroath opened the scoring.
We lost the ball in midfield and 2 passes later the ball reached Bobby Linn who did'nt hang about and despatched a cracking left footed shot low past Ross Laidlaw. At this point Craig Thomson came on to replace Daryl McHardy. That goal seemed to be the flame that lit the touch-paper for the City players. You could almost see the chests go out and there was a determination that was'nt there before. It did'nt take them long to get the equaliser. Barely 2 mins had elapsed when a long ball from the left found Shane on the right hand side of the box. He quickly passed the ball inside to Gunny about 10 yards out and Gunny does'nt miss these. 1-1 it was and City smelt blood. In 73 mins Brian Cameron picked the ball up in midfield. A couple of body swerves fooled the Arbroath defence and his pass to Shane was just what Shane feeds on. He outmuscled Kevin Nicoll and hit his shot at goal. The Arbroath keeper got his hand to the ball, and pushed it high in the air, but when it came down and in spite of a defenders best attempts, the linesman indicating that Shane's effort had crossed the line. Arbroath re-doubled their efforts in an attempt to gain a point, but City probably came closer to scoring with Jamie Reid very noticeable. Dennis Wyness and Gordy Finlayson were late replacements for Gunny and Shane.

A fantastic second half showing with not a failure in the team. Everyone contributed in some way or another. And I think most of the players must have been running on "empty" by the end of the game, such was their commitment. So that's 1 down and 3 to go. Bring on Montrose next week, but as I said at the start of this post "I hope we have enough fit players to take the field next week".