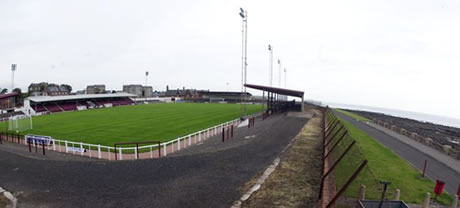 From the Daily Record: Stuart MALCOLM reckons Rangers should check the shipping forecast before they set course for Gayfield on Sunday.
The Arbroath stopper turned surfer on Boxing Day when he dodged a wave that broke over a wall and on to the pitch at the storm-lashed seaside ground.
The festive farce against Stirling Albion was halted after just 20 minutes and Malcolm reckons he has never played in weather so bad.
But he hopes Arbroath's familiarity with the crazy coastal conditions might just give them an edge over city slickers Rangers if the North Sea bites in their Scottish Cup showdown.
Malcolm said: "The match against Stirling was like nothing I had seen before. It wasn't that cold but waves were crashing over the wall on to the pitch, almost splashing the boys in the face.
"Nothing can prepare you for a storm like that coming in off the sea. I had heard about the notorious wind before I came here 18 months ago but had yet to experience it until Boxing Day. The game should never have kicked off.
"Our keeper, Darren Hill, was taking goal kicks and the ball was blowing all the way back to him – it was farcical.
"Who knows what the weather will be like on Sunday against Rangers? You can have rain, hail, snow or sun on any given day at Gayfield.
"There's a huge gap between the clubs so we need every advantage going to give us any chance.
"I wouldn't say it was a leveller but the weather could make it harder for Rangers, trying to get used to blustery conditions.
"It's a unique place so it's a case of wait and see."
The town has been buzzing since the Second Division minnows were paired with Ally McCoist's stars. Unfortunately for Paul Sheerin's side, their league results have dipped since the draw.
And former St Johnstone defender Malcolm admits Sunday's clash has probably been preying on their minds. The 32-year-old said: "We've had a horrendous run of form since drawing Rangers.
"Three draws and a defeat has been most unlike us when you consider we began the season on fire and scoring goals for fun.
"It seems like an eternity since the draw was made and now we're going through a sticky patch.
"Maybe the players haven't been thinking directly about Rangers coming to town but it's fair to assume it has probably been in the back of our minds.
"Now we just want to get down to it and hopefully give a good account of ourselves."
Malcolm knows all about cup magic, having won the Irish Cup with Drogheda United in 2005.
RESILIENT
He wants the Angus part-timers to savour every minute of Sunday's televised tie and dream of the impossible.
Malcolm said: "It's brilliant for the lads, especially the guys who have not experienced big cup ties much. I won the Irish Cup with Drogheda and it was amazing.
"Some people knock the Irish game but it's on the up and they take their football seriously.
"Their fans are like Scottish supporters because they have great passion for their clubs.
"So when we lifted the cup there were memorable scenes. That's what it's all about.
"Rangers have won plenty of silverware but I hope they won't be relishing a trip to Arbroath."
Malcolm launched his career at McDiarmid Park and was tipped for big things but a string of injuries forced him to give up the game for a spell.
However, the resilient stopper reckons his time on the sidelines served him well.
He added: "I had groin problems which finished me for a while. It was so frustrating because I just couldn't get to the bottom of them but looking back it wasn't a bad thing to sit things out.
"The rest helped my body and the fact I'm now back playing regular first-team football says it all.
"You never know what's around the corner in football so you just have to grasp any opportunity with both hands.
"I can't wait for the Cup game with Rangers. There's so much build-up that it will be good just to get on with the match.
"Once the whistle goes we will give it 100 per cent. I hope the wind isn't that bad and we will be able to get through the whole game."
See: http://www.dailyrecord.co.uk/football/cups/scottish-cup/2012/01/05/scottish-cup-arbroath-star-stuart-malcolm-promises-waves-of-attack-when-rangers-visit-gayfield-86908-23679811/