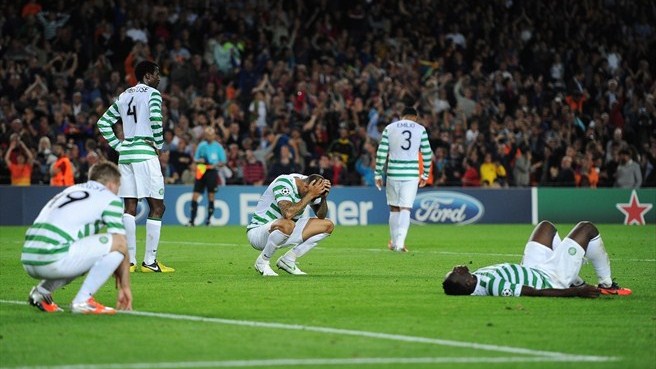 From the Daily Record: There has been no shortage of moments to savour for former Airdrie ace Watt this season after breaking into the Celtic first team and scoring the goal that floored Barca's superstars including Lionel Messi and Andres Iniesta.
This season has been a dream come true yet modest Watt remains refreshingly unaffected by his new-found fame.
Which is perhaps why he has no issues with the drop in glamour he will face when Celtic travel to Gayfield Park, Arbroath, tonight.
It's renowned as the windiest, most exposed stadium in Scottish football and it could prove one hell of a culture shock for a Hoops side that has feasted so joyously at the top table of European football.
This will be more like stale bread and water but Watt is adamant that won't be a problem for the Parkhead side.
And anyway he's seen a lot worse after some of the away trips he made when he began his career playing for Airdrie.
He said: "We've seen the glamour of the Champions League and now we have to see the not so glamorous Gayfield.
"You need to be able to do that as a Celtic player. You have to see your way past every opponent and Arbroath are in our way now.
"Last year it was Peterhead away and that was even worse! Trust me. When I was Airdrie we had a game against them postponed a few times and ended up having to go up there for a 7.30 kick-off on a December night.
"We didn't get back home until 3am the next morning and everyone was up for work the next day. So if I can handle Peterhead I can handle Arbroath.
"There will be better players around me this time as well so we'll hopefully go through – but Arbroath are league footballers so we can't rule them out just yet."
That said Arbroath should beware Hoops boss Neil Lennon's pre-match warning that he is ready to unleash his big guns at Gayfield to ensure there will be no repeat of the 1-1 draw his experimental line-up suffered in the first game.
With the Champions League campaign in cold storage until February there is no need to rest players now and he insists his troops are raring to go.
Lennon said: "We will be very strong. The players are in a match rhythm and in good condition. They are mentally in a good place and want to keep playing.
"We were terrific on Saturday and that is the reaction I was looking for after the Spartak match. Psychologically, getting through has eased them, it's given them something to look forward to in the New Year.
"This is just another game in a heavy December schedule but that is no different from the six months that have passed.
"If we want to be as successful as we possibly can this season we have to win the game and that won't be easy.
"It will be tricky, it will be Arbroath's cup final and they will be hoping we do not turn up with the right sort of
attitude. I have not detected any of that so far."