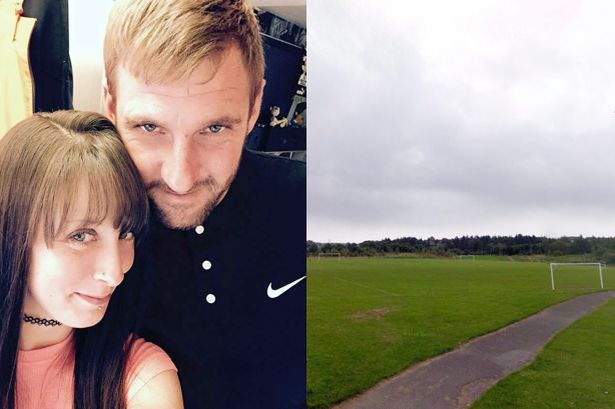 Daily Record: Soccer mum headbutts rival over tackle on her son at U-10s match in front of dozens of horrified spectators
THE shocking assault was launched soon after her son suffered a heavy tackle by an opposition player
Paterson headbutted a rival player's mum at Hercules Den playing fields in Arbroath
A FEMALE POSTIE horrified dozens of spectators at an Under-10s football match when she headbutted another mum.
Lisa Paterson launched the horrific assault after her son was heavily tackled by an opposition player.
Over 50 shocked adults and children looked on as the raging mother-of-two square up to her victim, Linda Webster, and rammed her forehead into her face.
The match was abandoned after the disgusting incident and the 29-year-old, from Condor Drive, in arbroath, was later arrested.
The mother-of-two initially denied a charge of assault to injury despite the crowd of witnesses but she was found guilty of butting Mrs Webster's face "to her injury" after a trial at Forfar Court and fined £250.
Lisa Paterson and her partner Alex Hutton
Her partner, Alexander Hutton, who ran on to the pitch and threatened to headbutt a player's grandfather, was found guilty of abusive and threatening behaviour but his sentence was deferred for six months.
It is understood that the couple are no longer allowed to watch any children's football matches.
Trouble flared at the match between Arbroath Lads Club and Arbroath Community Sports Club, at the town's Hercules Den playing fields, in February last year.
Witnesses told how Paterson - who works for Royal Mail - reacted badly when her son, who played for Arbroath Lads, was heavily tackled. Hutton, 32, also remonstrated with the referee and opposition parents and supporters.
Paterson and her partner were both charged after Lisa headbutted another boy's mum
He was found guilty of behaving "in a threatening or abusive manner which was likely to cause reasonable person to suffer fear or alarming that you did repeatedly walk onto the football pitch, repeatedly approach James Houghton in an aggressive manner, did repeatedly shout and did threaten to headbutt him."
Paterson's victim declined to comment on the incident, but a close family member said: "Linda just wants to put this all behind her. It was a horrible and nasty incident and something you don't expect at a children's football match."
Last night Paterson tried to downplay the brutal and unprovoked attack denying it ever happened.
She said: "It's all lies. They've all got together and backed each other up. Nothing happened. If there had been a lie detector involved, it would have come out who was lying, I can assure you of that."