Red Lichties player-manager dedicates november prize to assistant and goalkeeping coach
It's an Arbroath 'fraud' as Sheerin collects award
Arbroath player-manager Paul Sheerin was presented with the Third Division manager-of-the-month award for November yesterday – and then claimed he felt like a fraud.
The Red Lichties scored 10 times last month as they defeated Berwick, East Stirling and Montrose.Steven Doris was also awarded the Irn Bru Ginger Boot Award for his goalscoring.
Sheerin said: "I am delighted our run h as been recognised, however I feel a bit of a fraud as I have been playing so much. My assistant manager Stewart Petrie and goalkeeping coach Mike Cargill do a lot more work than other assistants, so I am really grateful to them.
"I won a player of the month award when I was at St Johnstone, but this feels a bit different as there have been so many people involved in earning it as opposed to just your own form."
November's nine-point haul moved Arbroath from sixth place to third and they are gaining a reputation as a team which likes to attack from the off.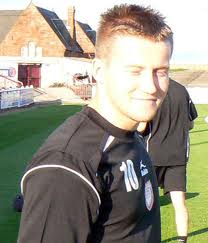 Sheerin added: "We have good attackers in Gavin Swankie and Steven Doris and we play to our strengths, although we can be a bit gung-ho at times, probably too much. I want us to play football in what I think is the proper manner and we are getting there.
"If we get the right results in a right way it is great, but at other times you need to keep everybody on board by grinding out a result."
Sheerin was appointed to the Gayfield hotseat at the end of May following the club's relegation to the Third Division and Jim Weir's move to Brechin City. He is only now catching his breath in his first managerial role. He added: "At the beginning it was all very rushed as we looked to get players on board. We did that but started slowly in the league as we were hit by a bit of an injury crisis. It is only now we have a full squad and I can take time to think about developing things further."
Promotion is now back on the agenda at Arbroath but Sheerin said: "We only won three of our first nine games and fell behind a wee bit and it might come back to haunt us. It may have cost us the title but we are back in the mix for a play-off place and that has to be the aim between now and May."
The next task for Sheerin will be to trim his squad and he said: "With everybody fit now I have a lot of bodies on board and not everyone is going to play regularly. I will need to look at it in January and move some players on