From The Courier

ST JOHNSTONE'S Gavin Swankie is Arbroath born and bred, but he insists th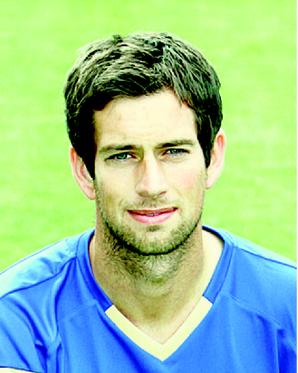 ere will be no room for sentiment when the Saints travel to Gayfield for tonight's Co-operative League Cup tie, write Neil Robertson and Graeme Dey.
"I started my career at Arbroath as a youngster after leaving school," he said.
"I still live in the town and I always look out for the Lichties' result on a Saturday.
"And if there's a midweek game and St Johnstone don't have a match, then I'll go along to Gayfield.
"I've actually been back to the ground as a player for friendlies while I was at Dundee, but I'm really looking forward to returning for a competitive fixture and meeting up again with some of the guys at the stadium.
"I imagine a few of my family will also be at the game—hopefully supporting St Johnstone.
"The club would love to go on a good cup run, if not win it, so if I'm selected I'll be going all out to beat Arbroath."
St Johnstone manager Derek McInnes has stressed he'll pick the 11 players he feels are best suited to any particular game, regardless of reputation, and Swankie admitted that while he was devastated to be left out of the SPL opener against Motherwell, he understands the reasoning behind the decision.
"The gaffer has said from day one that he'll need to utilise the full squad this season and obviously he can't keep everyone happy," he said.
"I was gutted to miss the Motherwell game, but you've just got to take it on the chin and if you're given a chance, you have to grasp it.
"I was delighted to get on for 25 minutes or so against Celtic and despite the fact we lost, I really enjoyed the atmosphere.
"It's now up to me to keep my head down in training and continue to work hard to convince the manager to include me in the team."
St Johnstone will again be without the injured Graeme Smith, Peter MacDonald, Andy Jackson, Kevin Rutkiewicz and Kevin Moon. McInnes said they are all making progress.
Swankie may be an Arbroath fan playing for St Johnstone, but there's a Saints supporter desperate to turn out for the Lichties.
Arbroath have two former Saints players—Marc McCulloch and Steven Doris—in their ranks but there's no-one this tie means more to than striker Bryan Scott.
The frontman is a lifelong St Johnstone fan and is bursting to play against the McDiarmid Park outfit.
"I was a season ticket holder when Saints were enjoying the highs of finishing third in the SPL and playing Monaco in Europe," he revealed.
"And although my own playing career has since restricted the number of Saints game I can get to, let's say I've never supported another team and never will.
"I was thrilled to see them win promotion back into the Premier League earlier this year."
"I couldn't get to the game they clinched the Championship in because Arbroath were playing. But I met up with my mates in town later that night to celebrate."
A groin injury has curtailed Scott's involvement with the Lichties so far this term, but with boss John McGlashan planning changes, it seems likely he'll figure.
"The prospect of playing against St Johnstone, for the first time at first-team level, and in front of my mates has got me buzzing," said the self-employed joiner.
"And despite my being a Saints fan, I'll be looking to help Arbroath to a result."
Scott is set to feature along with Jamie Bishop and Kevin McMullan, with McGlashan poised to make changes.
"I have Barry Sellars, Paul Watson, Alan Rattray and Paul Lunan all carrying knocks and the likelihood is that no more than one of them will be involved," he said.