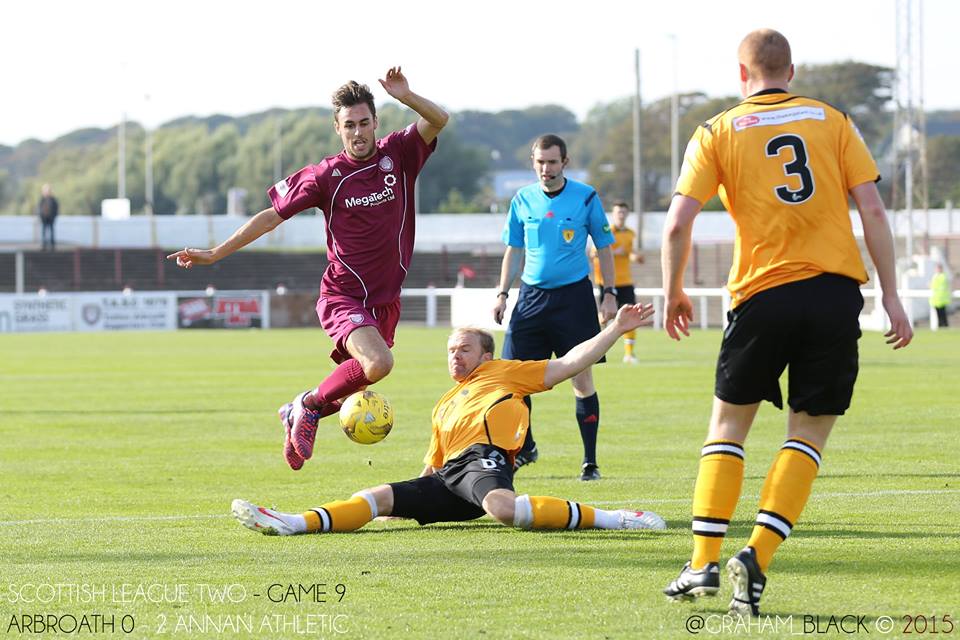 From The Courier: Arbroath manager Todd Lumsden was frustrated that, despite dominating possession, his side was unable to break down Annan's robust defence and the visitors were allowed to escape with the three points which hoisted them to the top of League Two.
The Gayfield boss said: "The only stat that counts is number of goals scored and they scored two more than us.
"I think our keeper had only one save to make in the whole game but we lose two goals in the second phase of set-pieces and that's disappointing.
"To be fair, Annan have done a good job. They defended deep after they got the goals, so credit to them.
"They have big lads who defend well, they like throwing their bodies in front of the ball.
"We didn't move the ball quickly enough around the edge of the box. We didn't do enough with the possession and territory we had and we needed to be a bit more clever. But In terms of effort and endeavour I couldn't ask any more."
The Lichties had a perfect chance to get off the mark in the fifth min after Kieran Stewart was tripped in the box by Brian Gilfillan, but Bobby Linn's spot kick was well saved by Jordan Hart who dived to his left to push the ball clear.
Six minutes later the home side failed to deal with a corner and the ball fell to Peter Weatherson who volleyed home from 20 yards.
The visitors went further ahead midway through the half when Ricky Little was unfortunate to put through his own goal in attempting to deal with another corner.
Arbroath increased the tempo in the second half but failed to knock any significant holes in the resolute Annan rearguard.
Sub Martin Grehan and defender Andy Munro both netted but the offside flag was raised on both occasions.