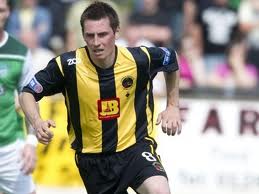 From the Herald : WITH only a week to go before the Lichties' first pre-season warm-up, manager Paul Sheerin has made a new addition to his squad.
Midfielder Paul Currie, who lists Berwick Rangers and Hamilton as former clubs, put pen to paper on Wednesday night to join the ranks at Gayfield.
The 27-year-old, who spent time last season at Musselburgh Athletic, has been training with Mr Sheerin's squad and the boss has been impressed by him.
"Paul is really fit and comfortable in any position. He can play central or right midfield and he is really versatile which is really helpful for us.
I won't lie, I wish I had a few more players signed, especially starting pre-season but hopefully I can add another two or three by this weekend.
"There are a lot of full-time players around who might be thinking about going part-time but need to get things in order as it is a big step.
"So we might have to wait a bit longer on them."
Currie will join fellow midfielder Brian Kerr, who has been confirmed as signing on for another season, as well as Daniel Rennie, who joins from East of Scotland side Civil Service Strollers.
Another new addition to the first team squad is Jake Mair, who makes the step up from under-19s football at Gayfield.
The new faces will join the rest of the squad tomorrow (Saturday) at RM Condor for an intense pre-season training weekend.
The boss added: "We have had a few sessions so far and it is going well.
"We have had some good workouts and we are looking forward to this weekend.
"It is nice to join up with the guys up there with them being in the town.
"It will be good to get the physical training but we will be able to do some team building too.
"It will be a tough weekend but a beneficial one."